The March luncheon has been cancelled and will be rescheduled for later this year.
Thursday, March 3, 2022 │11:30 am – 1:00 pm
Registration table and luncheon buffet open at 11:30 am
The City Club of Cleveland | 850 Euclid Ave | Cleveland, OH 44114
The City Club requires all guests to wear a mask regardless of vaccination status unless you are eating or drinking. The health and safety of event attendees is our priority. Any local or venue COVID-related protocols in place at the time of the event will be enforced. Your flexibility with regard to this evolving health crisis is appreciated.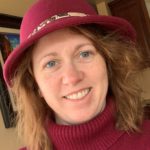 Francine Costantini
Director of Youth Ministry, Catholic Diocese of Cleveland
"Building the Future of the Church"
Youth ministry is the responsibility of the entire Church. It doesn't matter your age, experience, knowledge of theology or of youth culture… by virtue of your baptism YOU are called build up the Church. And right now our young people need you most. You have a role to play, whether as a leader, a volunteer, a supporter, an advocate, an encourager, a pray-er, or in some other capacity. Come find out what you can do to support and provide ministry to this vulnerable generation.
Francine Costantini is the Director of Youth Ministry for the Catholic Diocese of Cleveland. Hired in the middle of the pandemic, she spent her first year meeting with youth ministers and priests, and talking to diocesan directors across North America to set the vision for the new Office of Youth Ministry. She was the Coordinator of Youth Ministry at St. Barnabas Church in Northfield for over 10 years, and previously the Youth Minister and RCIA Director at St. Clarence in North Olmsted. Married to Diaconate Candidate Michael Costantini for 26 years, they have three children.
Cost
$30.00/per ticket or $150.00/Table of Six
Registration Closed – LUNCHEON CANCELLED
All attendees must register in advance and reservations must be received by noon on 2/25/22. If you reserve and are unable to attend, please call the office to cancel by noon 2/25/22 to avoid a charge for the event.