Inspired Leadership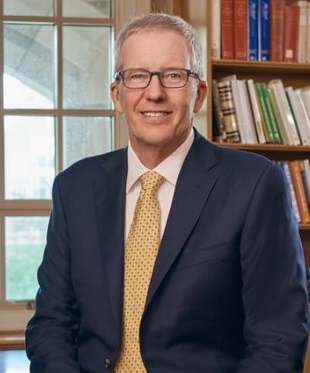 Michael D. Johnson became the 25th President of John Carroll University on June 1, 2018.  Dr. Johnson also joined the Boler College of Business as a professor in the Department of Management, Marketing and Supply Chain.
A social scientist by training, Dr. Johnson most recently served as the Provost of Babson College where he was also Professor of Marketing. Appointed in 2016, he was the senior academic officer of the College and led all academic affairs, including oversight of the Undergraduate School, the F.W. Olin Graduate School of Business, and the Babson Executive and Enterprise Education division.
Prior to becoming Provost at Babson, Dr. Johnson served as Dean, E.M. Statler Professor and Professor of Marketing at Cornell University's School of Hotel Administration (SHA) for 10 years. As Dean at Cornell he focused on investing in faculty, expanding students' learning and career opportunities, increasing diversity, building an effective fundraising organization, and growing the school's global platform.
Johnson was previously at the University of Michigan for 24 years, where he was the D. Maynard Phelps Collegiate Professor of Business Administration and Professor of Marketing at the Stephen M. Ross School of Business. As a professor at the University of Michigan, he published more than 100 academic articles and multiple books, and taught undergraduate, graduate, and executive programs. He served as a consultant for a diverse range of companies and public agencies, including Promus Hotels, Northwest Airlines, the National Association of Convenience Stores, Dell Corporation, Schering Pharmaceutical, and Volvo.
Born in Bottineau, North Dakota, Johnson grew up in Madison, Wisconsin. He is married to Jill Kobus Johnson, and they have three sons: Alexander, Andrew, and Thomas.