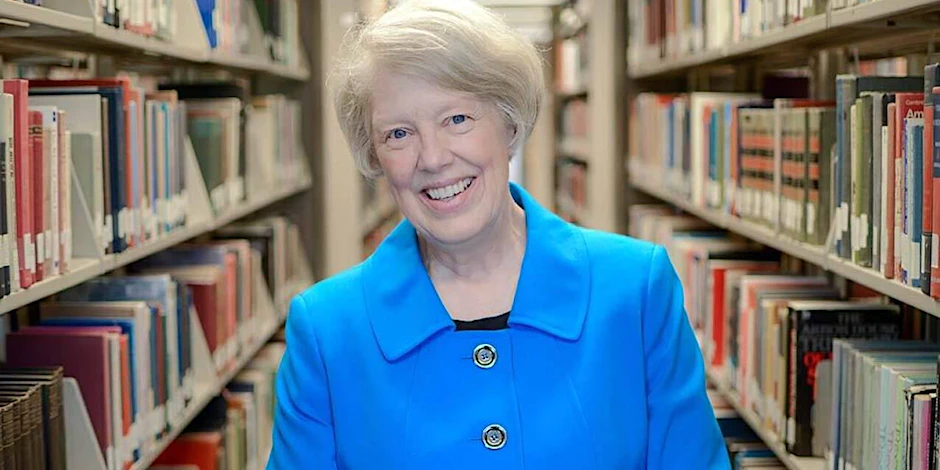 President Sister Christine De Vinne
Building on the foundation of her predecessors, Sister Christine directs her efforts toward raising the profile of the College across the region, increasing student enrollment and student success, expanding community partnerships, and strengthening support for faculty and staff development.
Sister Christine grew up in Cleveland Heights, where she had the benefit of an Ursuline education at Saint Ann School and then at Beaumont School. After high school, she entered the Ursuline Sisters of Cleveland and earned her bachelor's degree in mathematics, summa cum laude, from Ursuline College.
From 1973 to 1985 she taught in parish elementary schools at Christ the King in East Cleveland, Saint Clare in Lyndhurst, and Saint Mary Magdalene in Willowick. In 1985, after earning her Master of Arts in English from the University of Notre Dame, she returned to Beaumont School as faculty member and assistant principal.
In 1996, she earned her Ph.D. in English from The Ohio State University and joined the faculty at Ursuline College, where she taught in the Ursuline Studies Program, which she directed from 1999 to 2001, and the English Department. Under her leadership as dean from 2001 to 2010, the School of Arts and Sciences introduced its Bachelor of Fine Arts (BFA) degree, launched a dual admission program with the University of Toledo College of Pharmacy, and established academic initiative mini-grants to support faculty research and curriculum design.
In 2010, she became Vice President for Academic Affairs at Notre Dame of Maryland University, where she served until 2015. There she oversaw $4,000,000 in academic grants, collaborated with Student Life in increasing student retention, and supported the Deans in initial certification for the School of Pharmacy, an entry-level Bachelor of Science in Nursing (BSN) degree, the Trailblazer program for first-generation students, and the Academy of Catholic Educators (ACES).
Active in her profession, she is a past president of the American Name Society, where she serves as a member of the Editorial Board and book review editor of its quarterly, Names: A Journal of Onomastics. She writes and presents in the fields of name studies, life-writing, and higher education administration and mission.
She and her sister Virginia (UC '72) have been members of the Ursuline Sisters of Cleveland for more than forty years. Her family also includes her sister Maureen (SJ/UC '76) and brother-in-law Jake in New York and her niece Kelley, as well as her brother Michael and sister-in-law Martha, along with nephews James and Nick, in Baltimore.
Sister Christine De Vinne
President, Ursuline College