"The POWER of Catholic Education"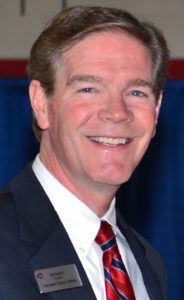 As a native Clevelander and life-long resident, I am privileged to be leading Cleveland Central Catholic High School. I am in my ninth year as president at Central Catholic on Broadway Avenue in Cleveland's Slavic Village neighborhood – and loving it!  CCC recently successfully completed its Beacon of Hope Campaign by raising nearly $6 million in support of five campaign priorities.  Our school also recently concluded a new strategic plan, a comprehensive marketing plan and campus master plan.
Born fourth of a dozen children, I learned early the value of Catholic education and how it shapes our lives and impacts our communities. My immediate family (2 parents and 12 children) have an accumulated 188 years of Catholic formal education.  In addition, my wife and two sons have a combined 44 years – that's 232 years total.  Needless to say, we believe in the power of Catholic education!
I grew up in South Euclid and graduated from St. Gregory the Great (1973) and Cathedral Latin School (1977). The strong faith formation of my family was reinforced through the academic rigor and engaging co-curricular activities that prepared me to become a life-long learner. Both the Sisters of Notre Dame and the Marianists had a profound impact on my youthful spiritual development.
I received a Bachelor's Degree in Organizational Communication from Ohio University, and earned a Master's Degree in Nonprofit Organizations from Case Western Reserve University.  I have been working in private education for over 20 years and am now in my 16th year of Catholic education.   My career in non-profit leadership and management has evolved with experience at the following institutions:  Hiram College, YMCA of Greater Cleveland, Case Western Reserve School of Medicine, Notre Dame – Cathedral Latin School, and presently as president of Cleveland Central Catholic High School.
I am a proud and active graduate of the Leadership Cleveland Class of 2013, and followed that with a year of service as an LC2 Fellow. Our LC2 group was charged with studying Cleveland's Lakefront Development challenges and initiatives.  Through this enlightening process, our group made findings and recommendations that ultimately helped foster the "water taxi" service that now operates on the Cuyahoga River.  We also weighed in on the proposed pedestrian bridge that would connect Mall A to the Rock and Roll Hall of Fame Plaza area.  It was a thrill to study and debate choices about how we live, work and play in relation to Lake Erie (and by extension the local river systems).
Through these many experiences, I hope to bring strong leadership and insight into the revitalization of Cleveland's Slavic Village Neighborhood. Working together with committed neighborhood partners like Third Federal, The Boys and Girls Club, University Settlement, MetroHealth, Slavic Village Development, local churches and our city leaders, I feel strongly that there are great days ahead for our community.
My wife (Beth) is a social worker at the Cleveland Clinic and we live in University Heights. We have been "Heights" residents since our marriage in 1985.  We are members of Gesu parish since 1996 and have two adult sons who graduated from Gesu and NDCL.  We enjoy traveling together.
TICKET INFORMATION
REGISTRATION FOR THIS EVENT IS NOW CLOSED.  PLEASE CALL OUR OFFICE 216-589-9852 TO INQUIRE ABOUT TICKET AVAILABILITY.
 Reservation Policy – All attendees must register in advance. If you reserve and are unable to attend, please call the office (216-589-9852) to cancel by noon 09/3/18 to avoid a charge for the event.