DUE TO EXPECTED INCLEMENT WEATHER ON THURSDAY, JANUARY 31, THE FEBRUARY LUNCHEON WITH BROOKE TAYLOR HAS BEEN MOVED TO THURSDAY, FEBRUARY 7.
Brooke Taylor – Speaker, Writer, Radio Personality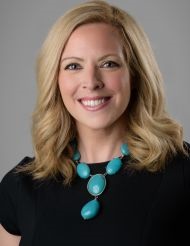 As the host of the popular podcast "Good Things Radio," Brooke Taylor shares her heart and vision of hope in Jesus Christ with audiences everywhere. Brooke's twenty-year media career includes serving as co-host of the "Family Friendly Morning Show" on 95.5 The Fish out of Cleveland, Ohio, where Brooke interviewed notable religious and political figures such as former Speaker of the House Newt Gingrich, Rev. Franklin Graham, Dr. James Dobson, Beth Moore and many more. Brooke is the founder Saint Gabriel Media and the creator of the annual Arise retreat, bringing women together from across the country to find joy in their shared journey of faith. Brooke has also appeared on the EWTN Program "At Home with Jim and Joy" and "Living Right witih Dr. Ray." Her travels include leading pilgrimages to the Holy Land and Italy and visiting Guatemala and Haiti with Food for the Poor. As a nationally recognized speaker, Brooke loves sharing her heart with audiences on topics close to her heart such as faith, adoption, parenting special needs children, community, joy, and the power of one voice. She is also the author of the books: Choose Joy and Choose Hope: A 52-Week Devotional Journey. Brooke and her husband, Jim, are busy raising their five children: four sons and a daughter they adopted from Poland. For more information visit www.BrookeTaylor.us.