"COACHING THE FAITH"
Join us on Thursday, January 3, 2019 as we welcome Coach Chuck Kyle and Coach Mike McLaughlin from St. Ignatius High School.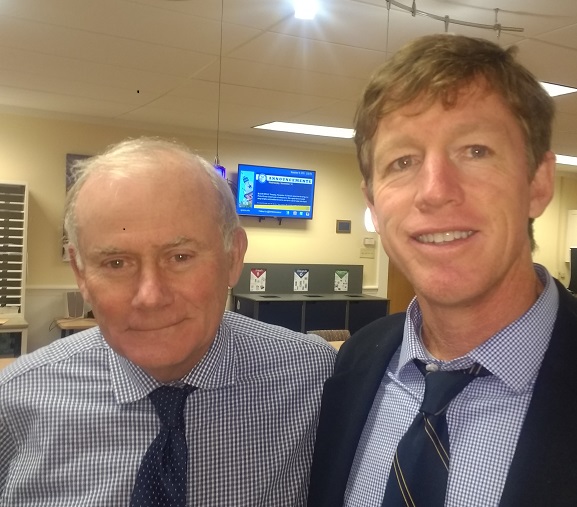 Chuck Kyle
Saint Ignatius High School '69
John Carroll University '73
English teacher, Head Football Coach, and Head Track & Field Coach at
Saint Ignatius High School
Chuck Kyle is a legendary educator and coach at Saint Ignatius High School. Kyle has taught English at Saint Ignatius for over 40 years, sharing his love of language and literature, particularly Shakespeare, with countless young men. Kyle became the school's head football coach in 1983, and has since built a winning program based on doing things the right way. The results speak for themselves during Kyle's tenure. Kyle has guided the Wildcats to 11 state championships and 4 national championships. In his 36 seasons, Kyle has accrued a record of 353-90-1, recording more wins than every previous Saint Ignatius football coach combined. Kyle has also served as head coach of the track & field team for 46 years, earning two state titles. But more importantly, Kyle has helped to form countless "Men for Others" who have succeeded in all walks of life, from law to politics to professional sports to the medical field. In addition to his duties at Saint Ignatius, Kyle serves as youth football advisor for the Cleveland Browns. Kyle has been inducted into the National Federation of State High School Associations (NFHS) Hall of Fame, Ohio High School Football Coaches Association Hall of Fame, and Cleveland Sports Hall of Fame. Kyle also received the Rossing Award for Excellence in teaching in 1987. A native Clevelander, Kyle and his wife, Pat, have been married for 43 years and have four children.
Mike McLaughlin
Saint Ignatius High School '85
Quincy College '89
Chair of Theology Department, Director of Sophomore Service, and Head Soccer Coach at
Saint Ignatius High School
Mike McLaughlin is a renowned educator and coach at Saint Ignatius High School. McLaughlin has been a member of the theology department at Saint Ignatius for 27 years, teaching students about service and finding God in all things. McLaughlin assumed the role of head soccer coach in 1995 and has since built a remarkable program in Ohio City. In 24 seasons, McLaughlin has guided the Wildcats to 8 state championships and 4 state championships, along with an overall record of 406-52-51. McLaughlin's philosophy is based upon teaching young men how to be great students and men first. The results are clear. Besides the titles, McLaughlin's teams have earned Academic All-American status for 20 straight seasons, including in 2018, when his squad recorded a 3.48 team GPA. Individually, McLaughlin has won 32 Coach of the Year awards from the NHSCA, NSCAA, OSSCA, GCSSCA, USA TODAY, and the Cleveland Plain Dealer. Even more importantly, McLaughlin has thrived as an educator. McLaughlin serves as the chair of the theology department, leading the men and women who teach 1,500 students daily. McLaughlin is also the director of the sophomore service program. Mike and his wife, Motria, have been married 18 years and have three children.
Thursday, January 3, 2019
Location:
The City Club of Cleveland
850 Euclid Ave, 2nd Floor
Cleveland, OH 44114
Time:
11:30 a.m. – Register & lunch buffet open
Program begins at noon.
REGISTRATION:
Tickets:
$250/table of 10
$25/individual ticket
REGISTRATION FOR THIS EVENT IS NOW CLOSED
Cancellation Policy: If you reserve and are unable to attend, please call the office (216-589-9852) to cancel by noon the Monday prior to the luncheon to avoid being charged for the event. No refund will be given if reservations are canceled after 12:00 p.m. the Monday prior to the luncheon.