Richard F. Clark, President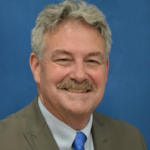 St. Martin de Porres High School
Rich was born in Boston and raised in Chicago. He is a graduate of Loyola Academy, '69, Chicago, Georgetown University, '73, and holds an M.A. in Religious Education from Loyola University, Chicago, '77.
In 1973 Rich returned to Loyola Academy, his alma mater, where he taught Theology until 1991. He was part of the founding team of Loyola's Peru trip which took high school students to live and work in Peru for 8 weeks in the summer. This Service Immersion Trip has been replicated throughout the Jesuit High School system. In 1991, he became the first lay principal of Saint Ignatius High School in Cleveland. During his tenure as principal, enrollment rose from 1190 to 1400 and the campus added an intramural gym, a 400-seat Chapel, a completely remodeled main classroom building, and a state of the art science building.
In 2003, Rich left Saint Ignatius to begin a new high school in Cleveland: Saint Martin de Porres High School. The mission of Saint Martin is to provide a co-educational, college preparatory, Catholic high school experience to those who in no other way could afford access to such an education. In August of 2004, Saint Martin opened its doors and welcomed 104 ninth graders. Today, there are over 400 students enrolled and the Class of 2015 marked the eighth graduating class.
Saint Martin de Porres High School is part of the Cristo Rey Network, a national network of 30 schools which provides this quality education through a unique work study program. Students are placed in entry level jobs at Cleveland businesses and non-profits. Each student works five days a month in a team of four students; each team earns $29,000, which supports 40% of the school's operating budget. One hundred forty companies in the Cleveland area take part in the Corporate Work Study Program and help students to build professional relationships and gain experience that will prepare them for success in college and in life. The average family income for Saint Martin students is $26,000 for a family of four. Seventy-three percent of Saint Martin students are African American, 15% are multi-racial, 9% are Hispanic and 3% are Anglo- American. Students come to Saint Marin eager to learn, motivated to succeed, and excited to develop relationships within the school community and at their workplaces.
Rich is married to Moira, theology teacher and administrator at Magnificat High School in Rocky River, and has three children: Will, Kevin, and Bridey.